A voluntary organisation providing 24/7, 365 days/year 999/112 emergency cover on the mountains and hills of Co. Mayo.

Mayo Mountain Rescue Team (MMRT) is a 100% Voluntary Organisation. The Team provide the Search and Rescue Emergency Service and pre hospital first aid for people in distress on the mountains of Mayo and are tasked by An Garda Síochána.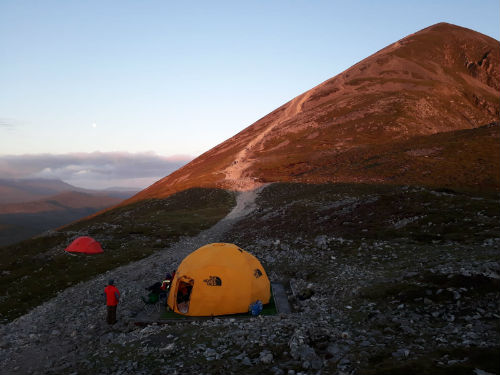 MMRT is comprised of hillwalkers and mountaineers living all over Mayo who have a common interest in the enjoyment of the outdoors.  The Team responds to emergency callouts on all the mountains in Mayo including Mweelrea, the Sheffrys, the Nephin Beg Mountain range and Achill Island. Callouts are predominantly on Croagh Patrick with up to 80% of all annual callouts being focused on the pilgrimage mountain.
The team is made up of builders, farmers, medical professionals, electricians, teachers, engineers, outdoor instructors, self-employed and civil servants, in fact men and women from all walks of life. The volunteers range in age from 25 to 70 years of age and come from all over Mayo. Some members drive up to 50 miles for the pleasure of setting off on a rescue in the rain. All volunteers have a love of the mountains in common. Most don't talk about the fact that they joined the team to help others, but on every callout the satisfaction of the team is palpable, evident in the good humour and willingness to help and in the compassion shown to our casualties so that we can evacuate them as quickly as possible to a warmer, safer environment. Currently the team has approximately 35 members and obviously due to work or family commitments, it is just not possible to attend every callout, but in general about 12-15 members respond per callout. Physically and technically demanding, callouts generally take several hours, occasionally overnight or for several days in the rare case, there is a huge personal time commitment being involved with the Team.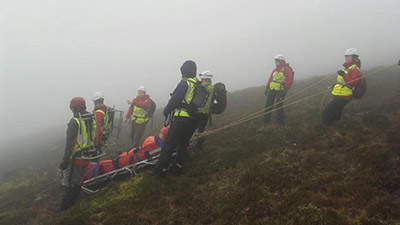 Often our work involves close involvement with one or more of our fellow emergency services or mountain rescue teams. It is worth noting that the unofficial members of our team include family members, partners and employers of our team members because without their understanding and flexibility it would be impossible for us to do our job. The team also give support to local voluntary and statutory service providers, such as Westport Social Services 'Meals on Wheels', when requested during inclement weather.
As well as emergency callouts, MMRT coordinate the Rescue and Emergency Care Services on the annual pilgrimage walk of Reek Sunday in July of every year, where sometimes up to 20,000 people  have climbed the mountain in one single day. This involves months of planning and co-ordination across what has become known Reek Weekend.